Tibet, uomo si dà fuoco in piazza
In Tibet un uomo si è dato fuoco per per protestare contro la "occupazione" cinese del Paese e per il ritorno del Dalai Lama.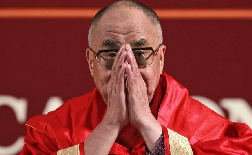 Dal 2009 sono già 52 le persone che si sono immolate in questo modo per la causa. Il giovane è stato prelevato dalle autorità cinesi e portato in un luogo sconosciuto. Alcune fonti su Internet riferiscono che il giovane è poi morto in seguito alle ferite riportate.
Fonte: TG Com24, 1 ottobre 2012
Condividi:
Stampa questo articolo
---
Condizioni di utilizzo - Terms of use
Potete liberamente stampare e far circolare tutti gli articoli pubblicati su LAOGAI RESEARCH FOUNDATION, ma per favore citate la fonte.
Feel free to copy and share all article on LAOGAI RESEARCH FOUNDATION, but please quote the source.

Quest'opera è distribuita con Licenza Creative Commons Attribuzione - Non commerciale 3.0 Internazionale.