La Cina fornirà 19 miliardi di dollari a Taiwan per aiutare le imprese Taiwanesi che fanno affari con la Cina continentale.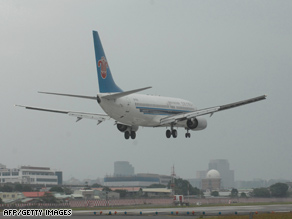 Il pacchetto di aiuti include 7.3 miliardi di dollari dalla Industrial and Commercial bank of China, altri 7.3 miliardi dalla Bank of China e 4.4 miliardi dalla China Development Bank. Lo scopo è di aiutare tutte le imprese che fanno affari con la Repubblica Popolare Cinese.  I rapporti tra i due paesi si stanno riscaldando.  Già la settimana scorsa sono iniziati i voli diretti tra Taipei e Pechino.  Segue il comunicato in inglese di CNN. 
BEIJING, China (CNN) — China will provide 130 billion yuan ($19 billion) in financing over the next two to three years to Taiwan-based companies doing business in the mainland, the Taiwan Affairs Office of the State Council said Monday, the latest sign of warming ties between Beijing and Taipei.
The package includes 50 billion yuan ($7.3 billion) each from the Industrial and Commercial Bank of China and Bank of China, and 30 billion yuan ($4.4 billion) from China Development Bank.
The deal was the latest sign of improving relations between the two sides.
Regularly scheduled commercial flights, shipping and mail between Taiwan and China resumed last week for the first time since the 1949 revolution that brought the Communist Party to power on the Chinese mainland.
Taiwanese President Ma Ying-jeou has been cultivating ties with Beijing since winning office in March.
Ma, a Nationalist, opposes reunification with China but ran on a platform touting the economic benefits of better relations with the mainland.
In June, in the first formal talks between the two sides in almost a decade, Chinese and Taiwanese officials agreed to set up permanent offices in each other's territories.
Condividi:
Stampa questo articolo
---
Condizioni di utilizzo - Terms of use
Potete liberamente stampare e far circolare tutti gli articoli pubblicati su LAOGAI RESEARCH FOUNDATION, ma per favore citate la fonte.
Feel free to copy and share all article on LAOGAI RESEARCH FOUNDATION, but please quote the source.

Quest'opera è distribuita con Licenza Creative Commons Attribuzione - Non commerciale 3.0 Internazionale.