Cadono i mercati asiatici seguendo il pessimismo negli Usa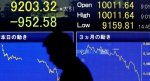 Hong Kong, Cina – Le borse in Asia continuano a scendere, toccando il livello più basso in 5 anni; il prezzo del petrolio è sceso a 53 dollari al barile..
Condividi:
Stampa questo articolo
---
Condizioni di utilizzo - Terms of use
Potete liberamente stampare e far circolare tutti gli articoli pubblicati su LAOGAI RESEARCH FOUNDATION, ma per favore citate la fonte.
Feel free to copy and share all article on LAOGAI RESEARCH FOUNDATION, but please quote the source.

Quest'opera è distribuita con Licenza Creative Commons Attribuzione - Non commerciale 3.0 Internazionale.